Collaborative Wellness effort afoot to help improve County health rankings!
When Michael Kearns looked at the analytics of his 142nd Assembly District three years ago, he didn't like what he saw in terms of health and well-being. Erie County – including much of the Southtowns and Buffalo, which make up the district – ranked 54th out of 62 counties in the New York State health rankings. It would fall to 57th the following year.
To continue reading, click here.
Community Aims for 100 Million Steps in 2018
FOR IMMEDIATE RELEASE
CONTACT: Philip Haberstro, This email address is being protected from spambots. You need JavaScript enabled to view it., 716-851-4052
COMMUNITY AIMS FOR 100 MILLION STEPS IN 2018!
BUFFALO, NY (February , 2018) –The Wellness Institute of Greater Buffalo and its community partners announced its 2018 Walking to Wellness initiative today, including an ambitious goal to reach 100 MILLION steps walked/rolled by local participants this year. The campaign supports ongoing national and local programs such as the Surgeon General's Call to Action to promote walking and walkable communities, Erie County's Million Hearts Initiative, and the Population Health Collaborative Regional WNY Healthy Communities Coalition, whose focus is on improving physical activity and nutrtion.
In 2017, multiple community members facilitated walks in Delaware Park, local shopping malls, the Buffalo-Niagara Medical Campus, Delevan Grider Community Center and downtown Buffalo, surpassing a goal of 50 million steps by achieving 76 million steps recorded. Wellness Institute partner Explore Buffalo led the way, contributing 39 million steps toward the goal, along with help from fellow partners Refresh Magazine, Visit Buffalo Niagara ,the BNMC, the Healthiest District initiative and the City B-Well Program.
Wellness Institute Executive Director, Philip L. Haberstro noted, "The Wellness Institute is working strategically to increase physical activity by improving community walkability and access to trails and parks." The Wellness Institute's Walking to Wellness initiative has been recognized as a 'community best practice' by New York State's Department of Health. Additionally, Wellness Institute staff member Sarah K. Martin was awarded an America Walks fellowship to strengthen the Institute's capability to improve walkability."
Major Health Promotion White Paper Released
Universal Access to Health Promotion: A Sustainable Strategy to Reduce Health Disparities, Improve the Health of an Entire State, and Accelerate the Evolution of Health Promotion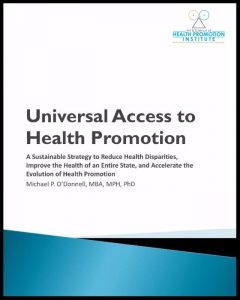 "The three pillars critical to improving the health of the residents of a state or nation are enhancing the social determinants of health, providing universal access to medical care and providing universal access to health promotion.
The missing element for most large-scale efforts is providing universal access to health promotion, even though that may be the most cost-effective method to improve the health of the people of a state and even a nation.
To do this well, we need to deliver a therapeutic dose of scientifically valid health behavior change strategies (summarized here in the AMSO Framework). Funding this effort is likely to cost 10 or more times the amount available through foundations, public charities and public health departments. Therefore, these groups need to focus a portion of their resources on mobilizing funding from entities that have sufficient resources and that will also benefit from improved health status of their constituents.
The most important contribution of this white paper may be the financial analysis that illustrates how sufficient resources might be mobilized and how the overall effort can be maintained by capturing a small portion of these funds to maintain internal operations indefinitely, and in the process, stimulate investments several hundred times the initial investment."
Michael P. O'Donnell, MBA, MPH, PhD
Mental Health Campaigns Launched in Erie County
Mental Health
Campaigns Launched
On May 30th, the Erie County Anti-Stigma Coalition launched "Join the Conversation", a public awareness campaign to address the stigma surrounding mental illness. The campaign is designed to start a community conversation to educate the public on the real facts surrounding mental illness and give those who suffer a voice in an effort to reduce or eliminate stigma in Erie County.
According to Michael Ranney, CRC-R, LMHC, Erie County Commissioner of Mental Health and coalition member, "Approximately 1 in 5 Western New Yorkers are living with a mental health condition. Yet many of these people suffer in silence because of the discrimination that goes along with it. Through this effort, we hope that people dealing with mental health challenges will know that they are not alone, help is available and recovery is possible."
The cornerstone of the campaign is the website www.letstalkstigma.org and its social media channels on Facebook, Instagram, and Twitter where individuals can find facts, information, other people's stories and experiences, available resources, and, of course, a place to join the conversation. Additonal community mental health campaigns include the youth focused JUST TELL ONE foucusing on our younger citizens ( visit www.justtellone.org ) and the Workplace health promotion initiative of the Erie County Mental Health Assocaition.